Roofing Contractors Insurance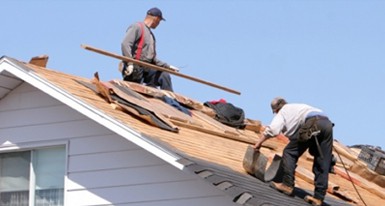 It's a fact that the roofing occupation is one fraught with risks, especially considering the circumstances under which roofers usually have to work. This is why it is essential for those in the roofing business to carry an insurance policy that will help safeguard them against risks.


Fill out the form for your Roofing Contractors Insurance Quote
Roofing Contractors Insurance at FarmerBrown.com
Agents at FarmerBrown.com can be of immense help in getting you the perfect roofing contractor insurance for your specific needs.
At FarmerBrown.com, we understand that it may prove too tasking for you alone to find the perfect roofing contractors insurance policy that will work for your business. You may not really know the perfect policy for your business, even when you think you do. Our experienced team of insurance professionals is on ground to put their expertise to use, helping you get the best coverage for your business. As your contractors liability insurance needs evolve, FarmerBrown.com will be there for you along the way to ensure you are adequately covered.
FarmerBrown.com is not a new player in the insurance industry. We have been helping people meet their insurance needs for well over 15 years. We know that experience is often the difference between producing the desired result and failure. And experience, as they say, cannot be bought in the market. When it comes to providing dependable and affordable roofers insurance to contractors, we are very effective.
One of the benefits you get to enjoy by choosing FarmerBrown.com is that you get a roofing insurance policy specially designed for your business. We know needs of all businesses are not the same. It is essential that you carry insurance that fits your business needs. Our experts at FarmerBrown.com do not just make promises; they ensure that you get the coverage that works for you.
We offer different policies that include:
Extensive liability coverage
Property coverage
Auto coverage
Whatever be the size of your business, we can help you craft a policy that meets your unique contractors liability insurance needs. FarmerBrown.com is able to negotiate with insurers to get the perfect policies for you.
In addition, we work with top insurance companies, so you do not have to worry about the quality of coverage you will be getting. The customer service at FarmerBrown.com is top notch and highly responsive because we value our clients so much and we desire to always be on ground to attend to their needs.
FarmerBrown.com's sales team is professional and possesses the insurance knowledge and expertise needed to get you the right solutions. You can easily obtain a quote online or by calling (888) 973-0016 now.
Roofing Contractors Insurance Quote
Get Quote
Follow Us